Extra Curricular Activities
St Bede's RC High School has a tradition of providing outstanding opportunities for our students to participate in extra-curricular roles and activities. As St Bede's we want pupils to BE INVOLVE in all aspects of school life. These opportunities are an invaluable way to help pupils interact with their learning and develop their interests, experiences, relationships and skills beyond the classroom setting. From sporting excellence, musical and dramatic performances to clubs, fundraising and community projects, these extra-curricular activities offer all students an opportunity to enhance their personal development and well-being.
All students must order a 'Grab and Go' from the school canteen or bring a packed lunch if they wish to attend lunchtime activities.
Throughout the academic year, all departments contribute to our program ensuring we offer an extensive range of activities to engage all. All extra-curricular clubs are inclusive, and anyone can attend regardless of experience or ability level.
We would like to take this opportunity to promote the current range of extra-curricular activities that are on offer to all of our students.
Extra Curricular Timetable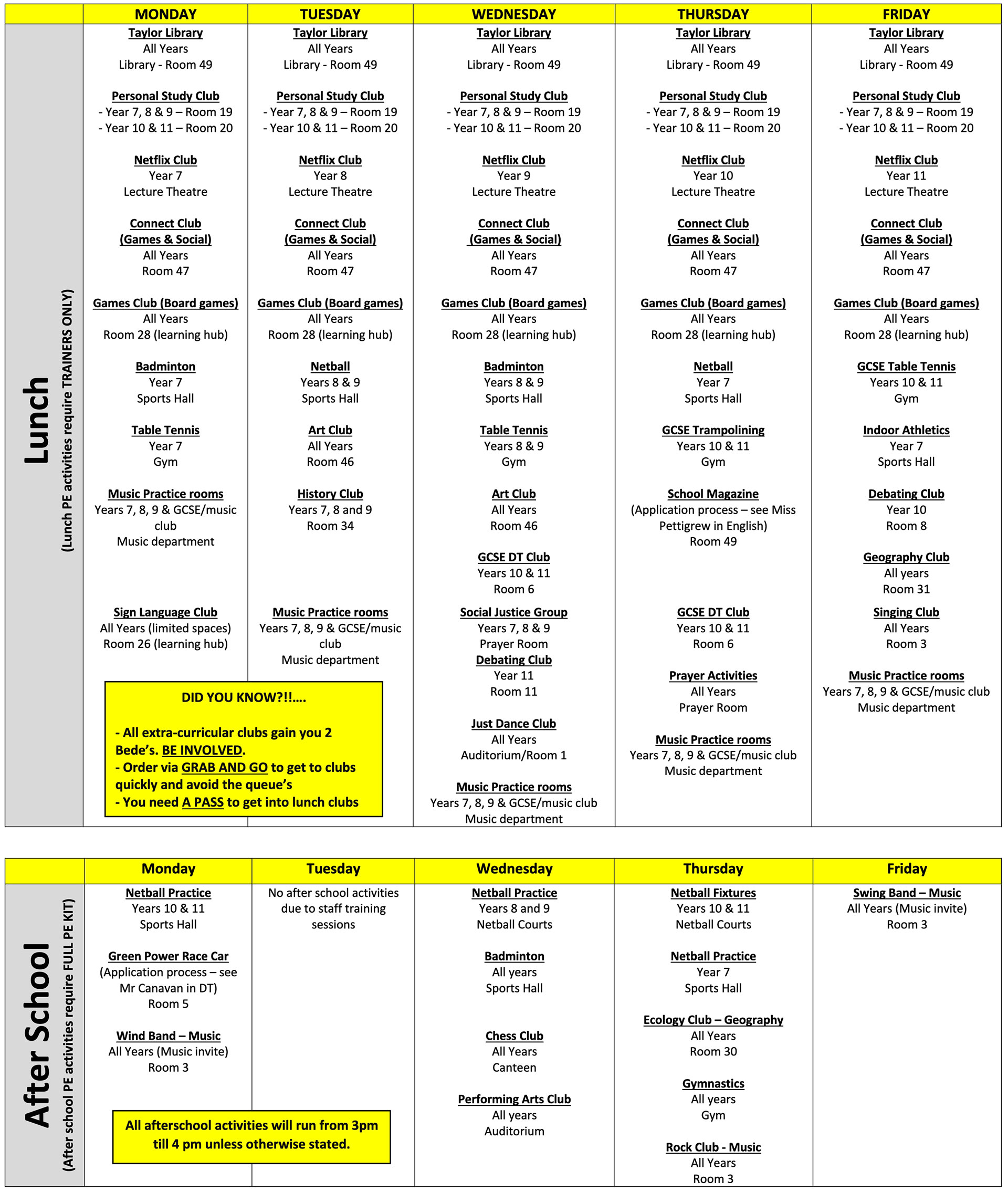 Click here to download the extra-curricular timetable (PDF)
If you have any questions relating to the provision of extra-curricular activities, please do not hesitate to contact the school.
Quantum Leap Gymnastics (external provider)
Recreational Gymnastics Sessions
Monday:      
4.30pm- 5.30pm
5.30pm- 6.30pm
Wednesday:
Saturday:  
Pre-school 8.00am – 9.00am
Boys session 9.00am– 10.00am
1pm – 2pm
Squad Training Sessions
Monday 4.30pm – 6.30pm or 6.30pm – 8.30pm
Wednesday 5.00pm – 6.30pm or 6.30pm – 8. 30pm
Saturday 10.00a.m.– 1:00pm
Pre Squad Training Sessions
Wednesday 5.00pm – 7.30pm
Friday 4.30pm – 6.30pm
Development Squad Training Sessions
Thursday 5.00pm – 6.30pm
Saturday 9.00am – 10.30am
Policies